Communication Engineering - Master
This Master's program is organized in a work-friendly way and is therefore compatible with a professional career.
Communication Engineering - Master's degree program
Enable Cross-cultural Communication
The progress of modern communication technologies is breathtaking: People all around the globe apply latest communication technologies to stay in touch – bridging geographical, national and cultural borders or even generational gaps. Machine-to-machine communication has evolved utilizing machine learning methods and opening access to worldwide date in real time. Students of the Master Degree Program "COMMUNICATION ENGINEERING" are receiving the essential knowledge first-hand to manage this ongoing technological revolution. Austria renowned for it's living quality and modest study fees paired with the WORK&STUDY approach ensures the optimal start of your professional career – already while doing your master study.
Get prepared for the challenges of Digital Transformation
"Communication Engineering" prepares participants for the upcoming challenges of Digital Transformation. Technologies like 5G or Radio Frequency Identification (RFID) are already game-changing aspects of Digital Communication that various industries are just beginning to discover. Students get to experience a wide variety of current technical developments in an ever-changing digital world. This hands-on, practical degree program enables students to oversee the multitude of data streams in technical networks and to plan and administer modern communication systems such as Optical Networks, Distributed Systems or Embedded Web Applications.
In order to be prepared for the multitude of technical requirements Communication Engineers need to oversee, the program focuses on a range of important aspects of Digital Communication. The program's areas of expertise include Radio Frequency Communication, Advanced Mathematics, Digital Signal Processing, IT Network Planning and Mobile Computing. Additionally, students learn about Network Modelling, Next Generation Access, Mobile Network Planning, Network Security, Photonics, Compression Technologies and Multimedia Data Formats.
Equipped with this knowledge graduates are in high demand on the job market. They qualify for activities in private sector businesses as well as research institutions. To support those careers, the program offers additional insights into Academic Writing, Business Strategies and Processes, Controlling, IT Legal Aspects and Scientific Communication.
Communication Engineering is built upon the three-year Bachelor of Science degree program Network & Communication Engineering. The integral concept of the degree program, however, allows students who have graduated from similar undergraduate programs to enroll. These could be BSc or Diploma Engineering programs from the fields of Informatics, Electrical Engineering or Technical Mathematics from a university or a university of applied sciences.
Application deadline
Winterm 2023
Period I: 01.11.-15.03.2023
Period II: 16.03.-15.05.2023
Period III: 16.05.-15.07.2023
Period IV: 16.07.-30.09.2023*
For applicants from outside Europe applications are only accepted within Period I & II (due to Visa Processing)
*We reserve the right not to open the period or to close it early.
Study start
The semester starts in middle of September. The start of lectures can be found in the iindividual timetable.
Teaching time
Monday to Friday:
16:50 till 20:10
Saturday:
08.30 - 16:00 (classroom teaching with online parts)
Further information
Language of instruction: English
Study & Work - is that possible?
With over 80 Study & Work partner companies and organizations, Carinthia University of Applied Sciences offers students of a bachelor's or master's degree program the opportunity to combine their studies with a career.
This attractive offer gives students the chance to immediately put theoretical knowledge into practice and gain professional experience in Carinthia's leading companies.
Level of qualification
Master
Tuition fees
€ 363.36 / semester
Qualification awarded
Master of Science in Engineering
Duration of study
4 semester
ÖH (Austrian Student Union) fee
€ 22.70 / semester
Language of instruction
Englisch
General Study Information
Profile of the Study Program
"Communication Engineering" is a two-year Master of Science degree program dedicated to prepare students for the challenges of Digital Transformation. It covers all major areas of modern digital communication in order to enable graduates to find new and ground-breaking applications changing the way we get and stay in touch. Deep technical understanding and knowledge are key in achieving this – the program has been designed to convey a wide variety of modern technical areas including 5G or RFID.
Graduates of the program get to choose between careers in private sector businesses as well as research institutions. They are sought-after experts in fields like Advanced Programming, Applied Algorithms in Network Engineering, Communication Networks and Mobile Networks. As Communication Engineers they are working at the core of an integral part of our information society – and at the core our everyday lives.
The students of the School of Engineering & IT should demonstrate strengths in the following areas:
technical understanding,
reasoning power,
good English, mathematics and computer skills,
creativity,
enjoyment of innovative developments.
The Bachelor Degree Programs of the CUAS School of Engineering & IT can generally be sought without subject-specific educational background. Lots of interest, commitment and of course the possession of a general university entrance qualification are sufficient.
Graduates of the master degree course Communication Engineering are able to:
apply various software in complex and technical networks (applications, operating systems, distributed systems, UML – Unified Modelling Language, object-oriented software development (C++ and Java), configuration management systems),
make use of modern hardware of transmission media for the planning, construction and operation of transmission paths of complex networks (wireless, optical and steer-by-wire transmission technology),
use algorithms purposefully so as to provide solutions to technical and communicational tasks (traffic theory, graph theory, network planning algorithms, expert systems, procedure of compression, digital signal processing, modulation scheme, traffic analysis, source coding, channel coding, procedures of synchronization, protocols, design patterns and cryptography),
integrate successfully in teams as well as supervise teams during a project,
work scientifically meaning to systematically present results of independent research.
Research in the study program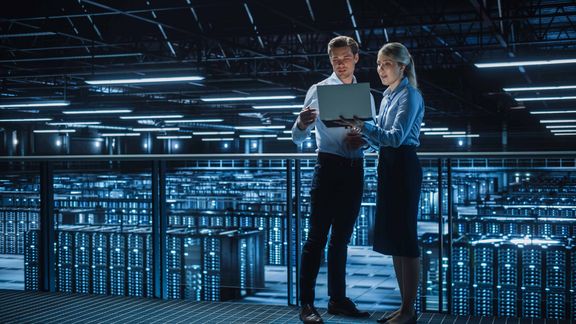 Research and development make an important contribution to transforming broad university knowledge into practical application solutions and to promoting cooperation between companies and universities.
The job markets of the digital world need highly-qualified engineers of communication technology, who because of their broad knowledge base are accustomed to work creatively. The international aspects of this master's program and our high academic standards should give you the necessary security to start your career. Companies and/or research institutions should have the guarantee that they are hiring qualified employees with a practice-oriented education.
However, technical know-how alone may not be enough in today's competitive job market; thus, so-called "soft skills" are playing a more important role in many companies. Thus, management competence and communication skills play a major role in the CE degree program and should contribute to broadening the overall profile of our graduates.
Above and beyond this – corresponding to the requirements of the daily workplace – self-responsibility and the ability to work in teams are put into practice in project-oriented courses. Students solve current problem sets on their own in small teams. Thus, innovative ideas can be implemented already in the degree program by students as they develop market-oriented business models.
The world of communication technology offers a variety of activity fields in regional middle-sized companies to large multi-national corporations. The Master of Science, an internationally recognized academic degree, offers you a good basis to enter into this world. Above and beyond this, a master's degree offers you the option to study further in PhD programs or to pursue a career in research.
Our graduates are active in the following areas:
Communications and Internet service providers
Hardware and software development
Aviation & automotive engineering
IT consulting and service providers
Entertainment branch / broadcasting
Energy and traffic management
Communication and Network Engineering stands for constant change and new challenges that arise continuously. Thus, we except that our students are intellectually curious, flexible and show a high level of interest in this extremely challenging and continuously changing technological environment.
The successful completion of the master program Communication Engineering in turn qualifies the graduate to undertake a doctorate.
Bachelor- und Masterarbeit bei Airbus
"Das Studium hat mir viel gebracht, u.a. weil ich durch die Unterstützung der Hochschule meine Bachelor- und Masterarbeit bei Airbus machen konnte und mir das somit meinen Job verschafft hat."
DI Marco Baltnik, BSc
Absolvent
Airbus Defence and Space
Job und Ausbildung miteinander vereinen
"Da ich meinen Job nicht aufgeben wollte, war ich auf der Suche nach einer Weiterbildung, die auf meine Bedürfnisse als Berufstätiger zugeschnitten sind. Die FH Kärnten ermöglichte es mir Job und Ausbildung miteinander zu vereinen und das überzeugte mich. Zudem wurde mir die FH Kärnten im Vorfeld auch von ehemaligen Absolventen und Kollegen empfohlen."
Thomas Lerchbaumer, BSc, MSc
Absolvent,
Infineon
Faculty and Staff - Communication Engineering