Innovatively shaping the healthcare system.
On the one hand, technical and medical advances make ever better treatment successes possible, while on the other hand new diseases of civilisation and demographic developments are placing a burden on the system. The need for highly professional health care personnel is increasing visibly - as are the demands on the management level. The Master's degree program "Health Management" is tailored to meet these requirements.
The orientation of the course of studies towards health promotion already begins with the "Healthy Start to Studies", which enables students to start their studies in a stress-free, conscious manner at the beginning of their training. Scientifically sound and application-oriented specialist knowledge is also imparted right from the start: The major topic of management is complemented by law and entrepreneurial thinking and acting in the health sector. Students deal with the health sciences as well as with business administration in the health sector. Special areas of business such as innovation management, entrepreneurship, quality management, risk management, human resources management and leadership are given broad scope in the curriculum.
On the practical side of the course, practice-oriented research projects take place, which enable an active engagement with the Austrian health care system. Students work not only with non-profit organisations, but also with public social and health institutions in order to obtain the most comprehensive picture of the Austrian health care landscape. The different professions from which the students come further strengthen this picture. The course of study enables those in the professions to expand their skills - and to reflect on their everyday working life. Especially with regard to ethical and legal aspects in health care, a wide range of new perspectives are opened up.
New perspectives are also made possible by the close networking with internationally established partner universities of the degree program. The Double Degree Program, for example, was created in this way: At the partner university in Finland, Jyväskylä University of Applied Sciences, students can also earn a Master of Health Care degree. The program provides for international spring and summer schools. In addition, course contents are developed in online modules and practice weeks.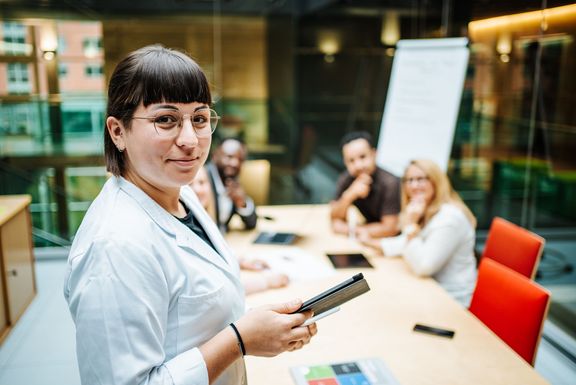 In cooperation with the Finnish University of Applied Sciences Jyväskylä (JAMK), the master's programs "Health Management" and "Social Work: Developing and Shaping" offer an international double degree program (DDP).
The DDP is an initiative of the study programs with the aim of strengthening the European dimension in studies and thus opening up international career opportunities for students. It also enables students to make international contacts and take a broader perspective on the health care system.
The program comprises 30 ECTS. These are integrated into the curricula of the Master's programs and include two international study weeks (Summer School in Jyväskylä and Spring School at the Carinthia University of Applied Sciences), a specific offer of online courses, the Master's thesis, and optionally one or two practice weeks.
All segments of the program are held in English.
Upon successful completion of the DDP, students earn the following degrees.
Health Management
Master of Arts in Business - CUAS
Master of Health Care - JAMK
Social work: Developing and shaping
Master of Arts in Social Sciences - CUAS
Master of Social Services - JAMK
Requirement for participation:
completed Bachelor's degree
very good knowledge of English in writing and language
at least 3 years' professional experience in the health and/or social services sector after completing a bachelor's degree or basic training
Application:
at the beginning of the 1st semester of the Master's program
in writing with letter of motivation and CV in English
1st Semester
Application period: 1st -31st of Oct.
JAMK Decision + Inscription: End of Nov. – beginning Dec.
2nd Semester
Online meeting: CUAS, Semester start
Writing Workshop (SOZ und GM): CUAS, online
Summer School at JAMK: June, 5 ECTS
3rd Semester
Exposé final: mid. Nov.
Professional Ethics: JAMK, 5 ECTS, online
Learning Across Borders (GM): CUAS, 3 ECTS, online
4th Semester
Spring School*: at CUAS
Dissemination and science communication (GM): CUAS, 2 ECTS, online
Hand in Master thesis: 30th of Jun.
Examination: Mid Sep. – beginning Oct.
Application deadline
Winterm 2023
Period I: 01.11.-15.03.2023
Period II: 16.03.-15.05.2023
Period III: 16.05.-15.07.2023
Period IV: 16.07.-30.09.2023*
For applicants from outside Europe applications are only accepted within Period I & II (due to Visa Processing)
*We reserve the right not to open the period or to close it early.
Study start
The semester starts in the middle of September. The start of lectures can be found in the individual timetable.
Teaching time
2 block weeks per Semester
additional 9 weekends (Thursday to Saturday 08:30 to 19:45)
Further information
Language of instruction: German
Minimum of B2
Please contact us if you have any questions about your studies:
Level of qualification
Master
Tuition fees
€ 363.36 / semester
Qualification awarded
Master of Arts in Business
Duration of study
4 semester
ÖH (Austrian Student Union) fee
€ 22.70 / semester
Language of instruction
Deutsch
General Study Information
The Master's degree program "Health Management" trains executives in the health care sector and is dedicated to the teaching and deepening of leadership and management skills of practitioners in the profession. The extra-occupational study program addresses the special growth dynamics in the health sector and deals in depth with the topics of management, law and business administration in the health sector.
Students learn to grasp and help shape the dimensions of quality of care - and are equipped with scientific skills to raise their daily professional work to a highly professional level. With these competences, graduates of the program have a wide range of career paths open to them - from management functions in public and private health care institutions to consulting positions in health insurance companies or interest groups.
What students should bring to their studies:
Interest in business management issues and approaches in the health sector;
Enthusiasm for the analysis and discussion of health economic interrelationships as well as for questions concerning the design and financing of health systems nationally and internationally;
Interest in taking on management tasks in the health care sector such as communication and conflict management, project and personnel management, quality and innovation management;
Curiosity about the topics of health sciences and public health - with all their current and future challenges.
Pleasure in scientific work and writing in German and English;
Interest in the further development of social-communicative skills, also in an intercultural context;
Enjoyment of team-oriented and self-organised work in small groups in the context of application projects, workshops, planning and role-plays, research-based learning, etc.
A prerequisite for the Master's degree program in "Health Management" is a relevant Bachelor's or diploma degree. In this case, relevant to the subject means, for example, a degree in economics or health science.
After successful completion of their studies, graduates have the following skills and knowledge:
They understand complex interrelationships and make career-related decisions taking into account the business management requirements of the health care sector.
They are proficient in essential aspects of financing and accounting, personnel and corporate management as well as human resource management.
They improve the motivation and performance of their employees.
They solve conflict situations by professional means.
They are able to assess future developments, opportunities and risks in the healthcare system.
They have sound knowledge of social security law and other legal matters.
They can understand, classify and evaluate current studies and research results.
They are able to design, carry out and communicate studies and projects themselves and to prepare the necessary research and funding applications.
You will be prepared for management functions and learn the necessary social skills.
Of the numerous opportunities for professional activities after graduation, a few are listed below as examples:
Selected fields of work
Management and leadership functions, e.g. in hospitals, social security institutions or in the insurance sector, in public health care institutions, in various interest groups
Department and division management in the pharmaceutical industry
Speaker positions (e.g. for health insurance, health system issues, prevention and health care, integration of service providers)
Management and leadership functions in health tourism
Consulting, training, further education
Innovation management in all the above-mentioned areas as well as science and research in the field of business and health
Qualification and competence profile
Graduates of the Master's program in "Health Management" at the University of Applied Sciences acquire in-depth, scientifically sound and application-oriented specialist knowledge in the reference disciplines relevant to the field of health management and the methodical-analytical skills to apply this knowledge in interdisciplinary contexts. In addition, the course of study imparts key qualifications such as competence in acting, especially in the area of independent action, social and communicative competence such as conflict management, the ability to cooperate, the ability to work in a team, moderation and negotiation skills and networking, as well as extended leadership competence, especially in the areas of delegation skills, employee motivation, the ability to set goals and entrepreneurial competence.
The successful completion of the Master's degree program in "Health Management" subsequently entitles the holder to pursue doctoral studies.
More Health Management (DE)
Breit gefächertes Curriculum
"Auf Grund der Vorteile des FH-Studiums, wie zum Beispiel das breit gefächerte Curriculum oder die limitierten Studienplätze, habe ich mich bei meinem zweiten Bildungsweg für den Studiengang "Gesundheits- und Pflegemanagement" an der FH Kärnten entschieden. Durch die positiven Aspekte während des Studiums und um mein Wissen weiter zu vertiefen, werde ich im Anschluss an das Bachelorstudium gleich den Masterstudiengang "Gesundheitsmanagement" anhängen."
Stefan Hinteregger, BA
Absolvent des Studiengangs Gesundheits- und Pflegemanagement, Student GM
Der Austausch mit Vortragenden erweitert den Blickwinkel
"Nach der breit gefächerten Grundlagenausbildung im Diplomstudium und den erworbenen Kenntnissen erwarte ich mir durch die Teilnahme am Master-Studiengang Gesundheitsmanagement eine weitere Spezialisierung. Der Austausch mit Vortragenden und der Gruppe erweitert den Blickwinkel."
Mag. (FH) Christian Grimschitz
Absolvent des Studiengangs Gesundheits- und Pflegemanagement, Student GM
Gesundheitsmanagement schließt die Lücke im Gesundheitswesen
"Das Masterstudium Gesundheitsmanagement bietet insbesondere in den Bereichen Gesundheitswissenschaften, -ökonomie, Netzwerksysteme im Gesundheitswesen und Performance Improvement eine Vertiefung und erweitert die möglichen zukünftigen Tätigkeitsfelder. Im Gesundheitswesen herrscht ein Defizit an Mitarbeiterinnen und Mitarbeitern, die auf diesen Gebieten hoch qualifiziert sind. Der neue Masterstudiengang Gesundheitsmanagement kann diese Lücke schließen."
Mag.a (FH) Gabriele Hagendorfer-Jauk
Mitglied im Entwicklungsteam des Master-Studienganges Gesundheitsmanagement und Absolventin des Diplomstudiengangs Gesundheits- und Pflegemanagement
Berufliche Entfaltungsmöglichkeiten vergrößern
"Während meiner schließlich 20-jährigen Tätigkeit als Diplomierte Gesundheits- und Krankenschwester in der Intensivpflege wuchs in mir der Wunsch den Gesundheits- und Pflegebereich als gesamte Einheit genauer und umfassender kennen zu lernen. Das Studienangebot der Fachhochschule Feldkirchen entsprach allen meinen Vorstellungen. Der Abschluss des berufsbegleitenden Bachelorstudiums "Gesundheits- und Pflegemanagement" ermöglichte mir den Wechsel in den extramuralen Pflegebereich als Pflegedienstleiterin und das angeschlossene berufsbegleitende Masterstudium Gesundheitsmanagement stellte mein Wissen auf eine breitere Basis. ALLES in ALLEM haben die Studien mein Bewusstsein für die Chancen und Probleme im Gesundheits- und Pflegebereich geweckt und die beruflichen Entfaltungsmöglichkeiten vergrößert."
Eva Saxer, BA, MA
AbsolventIn GM
Faculty and Staff - Health Management
The young district town of Feldkirchen in Carinthia, gateway to the Carinthian Nockberge mountains and Lake Ossiacher See, lies in the centre of Carinthia, in Austria's southernmost province. In addition to unspoilt nature and friendly people, Feldkirchen with its modern shops, stylish boutiques, cosy restaurants and coffee houses is an ideal location for students. Both the mountains and lakes in the area and the proximity to Slovenia and Italy offer a wide range of sports and leisure activities for young and old. Swimming, surfing, sailing or mountain hiking or skiing, ice skating or snowboarding make Feldkirchen an attractive and popular campus!
Take the car, it's so tempting.
Coming from Klagenfurt: You drive on the bypass of Feldkirchen to the 3rd traffic light (Baumax) and turn left there(Ossiacher See Süduferstraße). Follow the road for approx. 1km and turn left towards the centre, into Ossiacher Straße (before the railway crossing). After approx. 200m you will see a free parking lot on the left side, drive straight on for approx. 200m and you will reach the main square. At the lower end on the left you will find the building of the Fachhochschule. There are a few short parking spaces in front of the building.
Coming from Villach: Turn right at the first traffic light into the Ossiacher See Süduferstraße. Follow the road for about 1km and then turn left towards the centre, into Ossiacher Straße (before the railway overpass). After approx. 200m you will see a free parking lot on the left side. Continue straight ahead for approx. 200m to the main square. At the lower end on the left is the building of the University of Applied Sciences. There are a few short parking spaces in front of the building.
Take bus or train, it is safe and comfortable.
Coming from the station: When you leave the station building, turn left towards the centre. Turn left into Obere Tiebelgasse and then right into Bürgergasse, which will take you to the main square. The building on your left is the Fachhochschule, choose the entrance at the main square. Walking time: approx. 10 min.
Go on foot - discover the city!
Coming from the bus station: Walk along 10. Oktober-Strasse towards the city centre until you reach Schillerplatz. There turn right into Kirchgasse until the street forks. Turn left into Ossiacher Straße, which will lead you to the main square after a few steps. The University of Applied Sciences is located at the lower end of the main square, so go down to the left and you will find yourself right in front of the entrance. Walking time: approx. 5 min.Go on foot - discover the city!