This Master's program is organized in a work-friendly way and is therefore compatible with a professional career.
Industrial Power Electronics - Master's degree program
Empower the sustainable energy future!
The rapid digital transformation is posing new challenges for business and politics as well as society in general. At the same time, it is creating an increasing demand for a well-educated work force, especially in the field of microelectronic applications with a growing focus on power electronics. The new master's program "Industrial Power Electronics" will be an innovation driver for this dynamic technology sector. Creative ideas can be developed and actively promoted in this program, offering young people the opportunity to gain experience and shape the future with us.
Students of the master's program will be provided a comprehensive, theoretical and practical understanding of the technology, development and application of current power electronic components and systems. This educational program focuses on the conception, design, modeling and simulation, control and protection, construction, assembly and testing of power electronic circuits and systems for intelligent and efficient energy conversion. In the course of their education, graduates will acquire scientific competence in the field of technical research, ranging from literature study to systematic problem formulation and solving as well as the publication of their results. Moreover, they will gather valuable experience and self-confidence in professional teamwork, communication and discourse with colleagues and external contacts.
Application deadline
For Winterterm 2022 the following Application Deadlines are opened:
I: 01.11.-15.03.2022
II: 16.03.-15.05.2022
III: 16.05.-15.07.2022
IV: 16.07.-30.09.2022
For applicants from outside Europe:
Due to visa and legalization processing we accept applications only from period I & II
Study start
The semester starts on 1st October.
Teaching time
Friday afternoon and Saturday.
Remote learning activities during the week.
Events
FH DAY
04.02.2022
CAMPUS DAY
04.03 & 06.05.2022
MASTERSESSION ONLINE
02.12.2021 & 12.04.2022
STUDIEN-INFO-LOUNGE
2nd Tuesday per month.
Individual appointments can be booked online.
Further information
Bachelor Degree with a minimum in the following area:
- Electrical Engineering / Electronics / Circuit Technologies (15 ECTS)
- Mathematics (10 ECTS)
- Physics (8 ECTS)
Study & Work - is that possible?
With over 60 Study & Work partner companies and organizations, Carinthia University of Applied Sciences offers first-year students of a bachelor's or master's degree program the opportunity to combine their studies with a career.
This attractive offer gives students the chance to immediately put theoretical knowledge into practice and gain professional experience in Carinthia's leading companies.
If you have any questions feel free to contact:
Level of qualification
Master
Tuition fees
€ 363.36 / semester
Qualification awarded
Master of Science in Engineering
Duration of study
4 semester
ÖH (Austrian Student Union) fee
€ 21.20 / semester
Language of instruction
Englisch
General Study Information
PROFILE OF THE STUDY PROGRAM
The local power electronics eco-system in Villach with Silicon Austria Labs and the KAI Kompetenzzentrum Automobil- und Industrieelektronik next door and Infineon Technologies nearby ensure that the industrial power electronics course is not only up to date, but also that students can get insights into the academic as well as industrial environments of power electronics.
Thus, the first three semesters cover the field of power electronic concepts, controller design and industrial drives, to mention a few. Moreover, lecturers from industrial partners will give valuable insights into relevant topics of power electronics in their field of expertise. Knowledge acquired through lectures is deepened by laboratory courses and students' projects.
The last semester is devoted to the master thesis which is done in cooperation with industry or at Silicon Austria Labs. The thesis is accompanied by regular seminars.
Students of Industrial Power Electronics, which is a master degree program within the School of Engineering &IT, should demonstrate strengths in technical understanding as well as mathematics and computer skills. Moreover, reasoning power, good English, creativity and enjoyment of innovative developments are beneficial for successfully completing the master course.
Graduates of the master degree program Industrial Power Electronics have a broad knowledge in the design and modeling of power electronics systems, such as inverters and motor drives. They have basic knowledge about power electronics devices and their manufacturing, and are abled to design power electronics circuits with given specifications. Moreover, they have practical knowledge in implementing and testing power electronics systems.
Research in the study program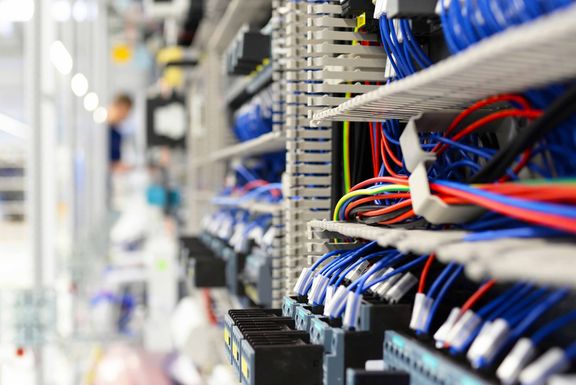 Research and development make an important contribution to transforming broad university knowledge into practical application solutions and to promoting cooperation between companies and universities.
Graduates of the master's program "Industrial Power Electronics" will easily be able to find employment with microelectronics companies and semiconductor manufacturers, electrical utility providers, public transport facilities and companies in the automotive, aerospace and aviation sectors as well as the telecommunications branch. Electrical engineers in the field of power electronics are concerned with the efficient conversion and transfer of electrical energy from its generation to its various application levels. In the master's program "Industrial Power Electronics" aspiring engineers are prepared for the technological and methodological challenges in their future field of modern power semiconductors and their industrial application in power electronic energy conversion.
The successful completion of the master program Industrial Power Electronics in turn qualifies the graduate to undertake a doctorate according to FHStG [Fachhochschul Studies Act] § 6(4).
Unique opportunity
"Our new post-graduate Master program offers you a unique opportunity to become an outstanding expert in power electronics design and applications. Driven by the requirements and ambitions of our industrial partners, who express their continuous request for academically educated and well-trained power electronics engineers, we provide a strong focus on power semiconductor technology and devices as well as present and future areas of industrial and automotive power conversion."
Dr. Michael Glavanovics
Project manager, Scientific Director Power Electronics, KAI Kompetenzzentrum Automobil- und Industrieelektronik GmbH
Faculty and Staff - Industrial Power Electronics