Case Management - akademischer Hochschullehrgang
Case Management: Veränderungsprozesse systematisch gestalten
Faktoren wie der soziodemografische Wandel, die Zuwanderung, Entwicklungen in der Pflege und Medizin etc. sowie sich verändernde Finanzierungsgrundlagen bei sozialen und pflegerischen Dienstleistungen haben großen Einfluss auf die Versorgungslandschaft.
Professionalisierung im Gesundheits- und Sozialsystem
Um Veränderungsprozesse systematisch gestalten zu können, ist eine weitergehende Professionalisierung der Mitarbeiter*innen im österreichischen Gesundheits- und Sozialsystem notwendig. Mit der Etablierung von akademisch ausgebildeten Case Manager*innen wird eine effektive und effiziente Koordination von Dienstleistungen gewährleistet, die an den Bedarfen und besonderen Lebenslagen der Betroffenen ausgerichtet ist.
Bei Fragen zum Studium kontaktieren Sie:
Mag.a (FH) Daniela Pluch
Course administrator of Centre for Further and Continuing Education
+43 5 90500 4312
d.pluch@fh-kaernten.at
Hauptplatz 12
9560 Feldkirchen in Kärnten
Ausbildungskosten
€ 1.850,- pro Semester
Abschluss
Akademische*r Case Manager*in
Organisationsform
berufsbegleitend
Fachpraktische Ausbildung
40 Stunden im 3. Semester
Geplanter Lehrgangsstart: 2023
Bewerbungen sind jederzeit möglich
Akademisches Case Management - Ziel & Inhalt
Der Erwerb fachspezifischen Wissens ermöglicht den Teilnehmer*innen, nach Abschluss der Case Management Ausbildung in unterschiedlichen Handlungsfeldern tätig zu sein, um professionell und kompetent Arrangements von Dienstleistungen wie professionelle Beratung und Unterstützungsangebote etc. zu initiieren und zu gestalten. Das Betätigungsfeld von Case Management zielt auf die passgenaue Unterstützung von Menschen in besonderen Lebenssituationen sowohl in städtischen als auch in ländlichen und strukturschwachen Regionen.
Zu den Handlungsfeldern gehören u. a.:
Krankenhäuser
Rehabilitationskliniken
Kinder- und Jugendpflegeinstitutionen
mobile Pflege- und Betreuungsdienste, Hauskrankenpflege
mobile Jugendarbeit
Familienhilfe
stationäre Langzeitversorgung
Aufnahmeinstitutionen für Flüchtlinge
Einrichtungen der offenen und verbandlichen Jugendarbeit
Beratungsstellen.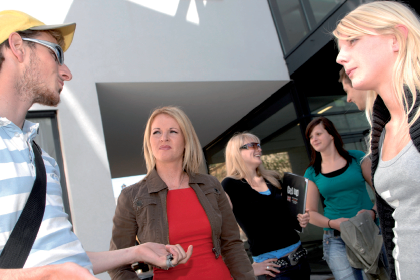 Im Hochschullehrgang Case Management werden Kompetenzen vermittelt, die neben dem fachspezifischen Basiswissen auch Kenntnisse z. B. aus den Bereichen Qualitätsmanagement, Projektmanagement und Prozessentwicklung sowie Fachkenntnisse in den spezifischen Handlungsfeldern umfassen. Eine hohe Praxisnähe und Verknüpfung mit der eigenen Berufstätigkeit zeichnen diesen Hochschullehrgang aus, indem u. a. auf regionalen Arbeitsgruppentreffen Themen aus dem eigenen Case-Management-Handlungsfeld thematisiert und Case-Management-Inhalte aus dem Hochschullehrgang reflektiert werden.
Der Hochschullehrgang Case Management ist in 4 Module gegliedert:
Der Hochschullehrgang "Akademisches Case Management umfasst 3 Semester mit 60 ECTS-Leistungspunkten und ist berufsbegleitend organisiert.
Für die Vertiefung der theoretischen Kenntnisse ist eine fachpraktische Ausbildung in einem Ausmaß von 40 Stunden in einem ausgewählten Handlungsfeld zu absolvieren.
Die Vorlesungszeiten werden so gut wie möglich zusammengefasst, sodass im ersten Semester ca. 2 mal pro Monat und im zweiten Semester ca. 1 mal pro Monat ein Wochenendblock (freitags von 12:45 Uhr bis 20:45 Uhr und samstags von 8:30 Uhr bis 17:00 Uhr) in Präsenz stattfindet. Eine Ausnahme ist die Einführungsveranstaltung sowie die LV Reflexion (diese finden dienstags und mittwochs jeweils von 13:30 bis 19:45 Uhr statt).
Parallel hierzu finden selbstorganisierte Arbeitsgruppentreffen statt, um die in den Lehrveranstaltungen kennen gelernten Inhalte zu vertiefen. Im dritten Semester nehmen die Präsenzzeiten deutlich ab, um das Verfassen der Abschlussarbeit und die Vorbereitung auf die Abschlussprüfung zu ermöglichen.
Geplanter Lehrgangsstart: 2023

Case Management - Bewerbung
bzw. eines Hochschulabschlusses an einer der folgenden Akademien bzw. Ausbildungen:
Akademie des gehobenen medizinischen Dienstes
pädagogischen Akademie/pädagogischen Hochschule
Akademie für Sozialarbeit
abgeschlossene Ausbildung im Gesundheits- und Krankenpflegebereich (gehobener Dienst für Gesundheits- und Krankenpflege, Kinder- und Jugendpflege, psychiatrische Gesundheits- und Krankenpflege)
Diplom- Sozialbetreuer*in und Fachsozialbetreuer*in mit dem Schwerpunkt Altenarbeit, Behindertenarbeit, Behindertenbegleitung, Familienarbeit
Lebens- und Sozialarbeiter*in gem. §94 Z. 46 GEWO 1994
und einjährige Berufserfahrung
und besondere betriebliche Aufgaben oder Funktion im Gesundheits-/Sozialbereich oder in der arbeitsmarktpolitischen Versorgung/Beratung und mindestens zweijährige Berufs- und Praxiserfahrung (branchenspezifischer CM)
Um den Richtlinien der ÖGCC zu entsprechen, sind von den TeilnehmerInnen zusätzliche Nachweise für nachstehende Bereiche/Themen zu erbringen:
Kommunikations- und Gesprächsführung (45 UE)
Moderation (15 UE)
Selbstreflexion (30 UE)
Rechtskenntnisse (45UE).
Die Erbringung der Nachweise ist während der Ausbildung möglich. Auf Wunsch bzw. bei Bedarf werden diese modular durch ein Angebot zusätzlich zum Regelstudium kostenpflichtig im Organisationsbereich des WBZ – Weiterbildungszentrum – angeboten.
Für eine Anmeldung benötigen wir:
Staatsbürgerschaftsnachweis
Geburtsurkunde
Heiratsurkunde (sollte eine Namensänderung stattgefunden haben)
Nachweis bzw. Abschlusszeugnis (entsprechend der oben genannten Zugangsvoraussetzungen)
Motivationsschreiben und Lebenslauf (mit Foto)
Bewerbungsformular
Bedeutendes Qualitätskriterium
Aufgrund der sich stetig verkürzenden Aufenthaltsdauer sowie der steigenden Multimorbidität der PatientInnen im akutstationären Bereich stellt ein funktionierendes Case Management ein bedeutendes Qualitätskriterium für das Krankenhaus dar. Die strukturierte Zu- sammenarbeit der einzelnen Gesundheits- und Sozialberufe im intra- sowie extramuralen Bereich gewährleistet einen ressourcen- schonenden und zielgerichteten Betreuungsprozess für den/die einzelne/n PatientIn.
DGKS Uta Kolussi, MAS
Qualitätsmanagement in der Pflege, LKH Wolfsberg
Kein Modebegriff
Case Management ist zwar in aller Munde, aber wie so oft bei Modebegriffen ist es wichtig, diese fachlich und theoretisch zu fundieren. Ein eigener Lehrgang ist dafür sicher das geeignete Mittel.
FH-Prof. Mag. Dr. Hubert Höllmüller
FH Kärnten, Studiengang Soziale Arbeit mit Schwerpunkt Kindheit/Jugend
Mag.a (FH) Daniela Pluch
Course administrator of Centre for Further and Continuing Education
+43 5 90500 4312
d.pluch@fh-kaernten.at
Hauptplatz 12
9560 Feldkirchen in Kärnten