This Master's program is organized in a work-friendly way and is therefore compatible with a professional career.
Electrical Energy & Mobility Systems - Master's degree program
Facing common future technology challenges
Electrical energy and professions on electrical mobility and storage systems will play a vital role in facing common future technology challenges. As a result, a fast growing industry is in need of specialists and experts in the field of Technology in all kind of different systems focussing Electrical Energy Transformations. A new Master Degree Program has been created to address these needs: "Electrical Energy & Mobility Systems" is the only applied science course in electrical energy & mobility systems for applied research and development professions in technology engineering.
Wide variety of current technical developments
"Electrical Energy & MobilitySystems" prepares students for the upcoming challenges of future industry requirements. Technologies like Electrical Traction and Electrical Powertrain are already game-changing aspects of mobility that various manufactorers are just beginning to discover. Students get to experience a wide variety of current technical developments in an ever-changing, technology-driven world. This hands-on, practical degree program enables students to discover emerging areas: Electrical Drives & eMachines, Power Electronics & Power Control or Energy & Alternative Co-Generations will be thoroughly discussed during the course of the program.
Application deadline
Winterterm 2024
Period I: 01.11.-15.03.2024
Period II: 16.03.-15.05.2024
Period III: 16.05.-15.07.2024
Period IV: 16.07.-30.09.2024*
For applicants from outside Europe applications are only accepted within Period I & II.
*We reserve the right not to open the period or to close it early.
Study start
The semester starts in october - we only offer intake in winterterm!

The start of lectures can be found in the individual timetable which is available after enrollment.
Teaching time
Monday – Friday all day and some Saturdays
(classroom teaching with online parts)
Events
Study Guidance
Book your personal appointmentright now!
You can find out more about our advisory services, events and fairs on our website.
Further information
Language of instruction: English
Study & Work - is that possible?
With over 80 Study & Work partner companies and organizations, Carinthia University of Applied Sciences offers students of a bachelor's or master's degree program the opportunity to combine their studies with a career.
This attractive offer gives students the chance to immediately put theoretical knowledge into practice and gain professional experience in Carinthia's leading companies.
Level of qualification
Master
Tuition fees
€ 363.36 / semester
Qualification awarded
Master of Science in Engineering
Duration of study
4 semester
ÖH (Austrian Student Union) fee
€ 22.70 / semester
Language of instruction
Englisch
General Study Information
Profile of the study program
In order to be prepared for the multitude of technical requirements future experts in Electrical Energy & Mobility Systems need to master, the program focuses on a range of important aspects of Electromobility. The program's areas of expertise include Storage Units – "Battery" Technology as well as Monitoring and Mobility Logistics. Equipped with this knowledge graduates are in high demand on the job market. They qualify for activities in private sector businesses as well as research institutions. "Electrical Energy & Mobility Systems" graduates are able to understand, develop and modify complex technical systems in the fields of electric power train development, drive control, electrical machines, mobile power electronics, battery technology, power electronics, alternative energy systems and mobility concepts. To support those careers, the program offers additional insights into Academic Competence Skills and Science Engineering.
Additional in-depth theoretical input is provided in the course of the degree. The first semester, in which electrical engineering, mechanical engineering, mechanical dynamics and academic competence are taught, is followed by two semesters of specialization in electrical energy & drive systems, power electronics, mobile energy storage, energy systems, automotive control, mobility systems and automotive logistics. In the fourth semester, the Master's thesis will be written in conjunction with a work placement. Upon completion of the final examination after four semesters, students are awarded the Master of Science in Engineering, MSc.
In addition to the formal requirements for admission, applicants to the Master's program in Electrical Energy & Mobility Systems should:
hold a degree of higher education (minimum 3-year Bachelor's program) in the field of Electrical Engineering, Systems Engineering and Electronics
provide excellent knowledge of English language
demonstrate strengths in the following areas:
creativity
enjoyment of innovative developments
Graduates of the master degree course Electrical Energy & Mobility Systems are able to:
analyze and evaluate modern, energy-technical systems in their complex structure and
analyze the future challenges in the energy technology sector, understand modern and economically efficient energy conversion and distribution systems and modify them accordingly the system concept,
analyze and regulate industrial, technical systems (processes),
develop electrochemical storage systems,
design and construe alternative energy systems,
perform test procedures for electrical energy storage.
Research in the study program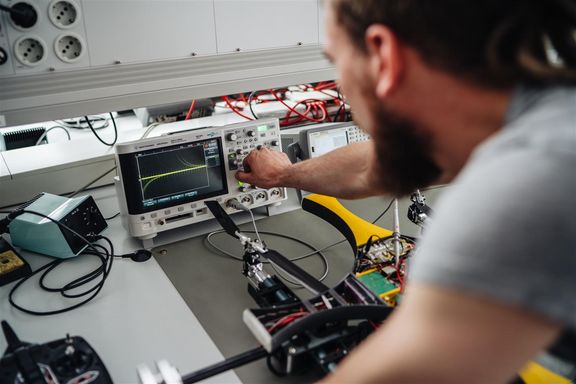 Research and development make an important contribution to transforming broad university knowledge into practical application solutions and to promoting cooperation between companies and universities.
Students acquire detailed knowledge of electrical power & drive systems, power electronucs, mobile energy storage, energy systems, automotive controls, mobility systems and automotive logistics. These qualifications allow graduates to take up leading positions in reserach and development in a variety of fields.
The successful completion of the master program Electrical Energy & Mobility Systems in turn qualifies the graduate to undertake a doctorate according to FHStG [Fachhochschul Studies Act] § 6(4).
Broad range of knowledge in a short time
"In addition to the engineering aspects, I learned subjects dealing with complex relationships such as legal hurdles, economic aspects and infrastructure problems. It is not just about scanning the surface of the material. If you delve into your studies intensively and show self-interest, you will acquire a broad range of knowledge in a very short time."
Fabian Gutbrod, BSc, MSc
Managing Director, GP Motion GmbH
Faculty and Staff - EEMS - Electrical Energy & Mobility Systems