This Master's program is organized in a work-friendly way and is therefore compatible with a professional career.
Applied Data Science - Master's program
Exploiting data collections
The continuing trend towards the digitalization of work processes and the immense amount of data to be processed are subjects of current business practice. Companies have collected large amounts of data in recent years and are now faced with the challenge of exploiting these data collections and generating added value for their business areas. They are looking for qualified data scientists who can generate relevant information from large amounts of data and derive recommendations from the processed data.
Becoming a data scientist
A data scientist is expected to be familiar with the entire data value chain. Therefore, graduates of the Master of Science degree program have a practical as well as theoretical understanding in all of the following areas:
Data acquisition
Data transmission
Data storage
Data evaluation
Data visualization
Legal and ethical frameworks
Moreover, graduates can use their acquired professional and methodological competence to pursue a further scientific specialization in the form of a PhD at a technical university.
Application deadline
Winterm 2023
Period I: 01.11.-15.03.2023
Period II: 16.03.-15.05.2023
Period III: 16.05.-15.07.2023
Period IV: 16.07.-30.09.2023*
For applicants from outside Europe applications are only accepted within Period I & II (due to Visa Processing)
*We reserve the right not to open the period or to close it early.
Study start
The semester starts in October.
The start of lectures can be found in the individual timetable.

Teaching time
Wednesday & Thursday from 16:50 h
Friday from 13:30 h
approx. 2 Saturdays/month & 5 working days per semester (Classroom teaching with online parts)
Further information
Bachelor Degree with a Minimum of:
- Computer Science Basics and Programming (10 ECTS)
- Mathematics / Statistics / Algorithmics (10 ECTS)
- Data Management / Databases / Data Structures (5 ECTS)
Language of Study: English

Study & Work - is that possible?
With over 80 Study & Work partner companies and organizations, Carinthia University of Applied Sciences offers students of a bachelor's or master's degree program the opportunity to combine their studies with a career.
This attractive offer gives students the chance to immediately put theoretical knowledge into practice and gain professional experience in Carinthia's leading companies.
Level of qualification
Master
Tuition fees
€ 363.36 / semester
Qualification awarded
Master of Science in Engineering
Duration of study
4 semester
ÖH (Austrian Student Union) fee
€ 22.70 / semester
Language of instruction
Englisch
General Study Information
Profile of the Study Program
The newly developed master's degree program trains future data scientist for a variety of promising career paths in different business areas. There is a great need for experts that are familiar with the entire data value chain, from the acquisition of data, to the extraction of information, and finally the generation and representation of knowledge.
The technical-methodological skills acquired during the program allow the students to identify problems in the acquisition of (sensor) data as well as the transmission of these data and enable them to make a fundamental assessment with regard to the quality of the acquired data. A main focus is on the techniques of storing large, heterogeneous data in order to enable a subsequent valid and timely evaluation using models of machine learning and artificial intelligence. Modern methods of visualization are part of the curriculum to communicate the results and derive recommendations for action.
Graduates of the master's degree program "Applied Data Science" can use their acquired professional and methodological competence to pursue a further scientific specialization in the form of a PhD at a technical university.
Data science is an incredibly fascinating field of applied sciences. The prerequisite for attending the master's degree program is a completed technical bachelor's or diploma degree from the FH Kärnten or an equivalent program at a recognized domestic or foreign post-secondary educational institution.
What students should bring to their studies:
10 ECTS in Computer Science Basics and Programming
10 ECTS in Mathematics, Statistics, and Algorithmics
5 ECTS in Data Management, Databases, and Data Structures (FH Kärnten offers a bridge course during summer)A fundamental interest in topics of artificial intelligence and machine learning.
A personality who enjoys discovering innovative and creative solutions.
Solid mathematical knowledge and basic programming skills.
Basic knowledge of databases and data management.
Good language and communication skills.
Graduates of the master's degree program "Applied Data Science" are able to:
work on concrete tasks in a problem-solving manner,
recognize the interrelationships of data analysis on large amounts of data on the technology, system, and application level,
•apply mathematical, statistical and computer science knowledge,
estimate the limits of the state-of-the art procedures, methods and models,
design, develop and implement systems for the analysis of large amounts of data
professionally carrying out projects with respect to development, implementation and application,
reflect, analyze and further develop the basic knowledge acquired during the program,
apply the basics and methods of scientific work.
Research in the study program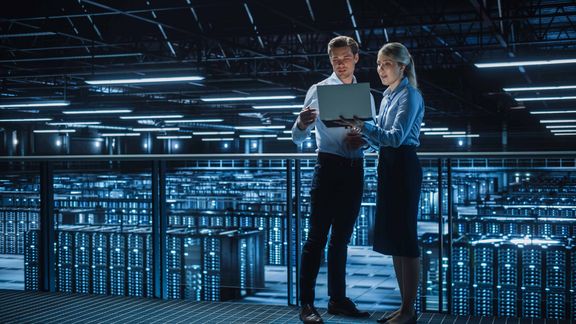 Research and development make an important contribution to transforming broad university knowledge into practical application solutions and to promoting cooperation between companies and universities.

Graduates of the Master of Science degree program "Applied Data Science" are highly educated specialists with exciting career opportunities in different fields of work. The leading employers for data scientists are typically from the following areas:
Public and private research institutions
Banks
Manufacturers
Large retailers
E-commerce companies
Internet service providers
Public and private transport companies
Marketing departments/agencies
The successful completion of the master program Applied Data Science in turn qualifies the graduate to undertake a doctorate.
Faculty and Staff - Applied Data Science
Professor of Data Science
FH-Prof. DI (FH) Dr. techn.

Markus Prossegger